Your ads will be inserted here by
Easy Plugin for AdSense.
Please go to the plugin admin page to
Paste your ad code OR
Suppress this ad slot.
Eye-catching feature from iPhone:
Multitasking: Some consider it the biggest weaknesses of the iPhone in comparison with its smartphone peers: that Apple limits the ability of applications on the iPhone or iPod Touch to run simultaneously. Currently, you can do some multitasking–listening to music while reading e-mail, or browsing Safari during a voice call–but third-party applications can't do this at all.
On the contrary, Microsoft reported early that they decided to emulate Apple and eliminate multitasking support in its upcoming Windows Mobile 7 operating system.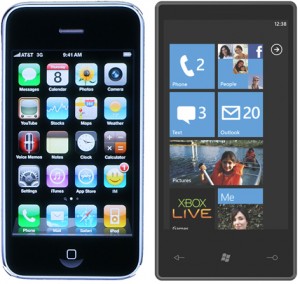 Some comparisons: