Your ads will be inserted here by
Easy Plugin for AdSense.
Please go to the plugin admin page to
Paste your ad code OR
Suppress this ad slot.
CACSS Cloud Storage System
Neither of Amazon S3's architecture nor its implementation has yet been made public. As such, it is not available for extension in order to develop the capability of creating private clouds of any size. In order to reveal this secret knowledge behind cloud storage services and thereby a generic solution, we present CACSS, a generic computational and adaptive cloud storage system that adapts existing storage technologies to provide efficient and scalable services.
CACSS Cloud Storage System is built as the implementation of one of my papers CACSS: Towards a Generic Cloud Storage Service (In: The 2nd International Conference on Cloud Computing and Services Science, CLOSER 2012, Porto, Portugal. Pages 27-36,SciTePress 2012, ISBN 978-989-8565-05-1.)
It is Amazon S3 API Compatible (you only need to change the endpoint from s3.amazonaws.com to s3.bigdatapro.org)
Currently deployed across a bunch of virtual machines.
Some functions such as object versioning is currently disabled.
Please feel free to contact me for any questions you may have.
Web Portal: http://www.bigdatapro.org or http://console.bigdatapro.org
End Point: http://s3.bigdatapro.org (use port 80, SSL is not yet supported)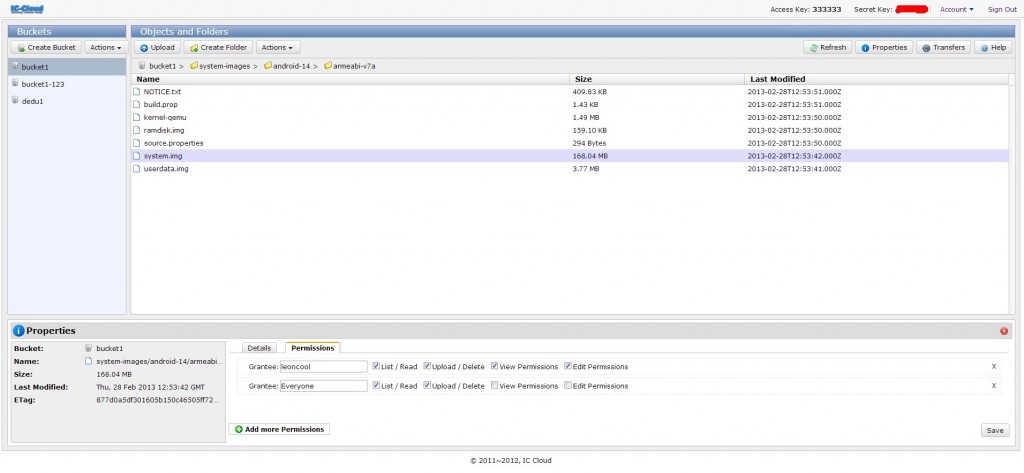 Keywords: Amazon S3, Amazon S3 Architecture, Open Source Amazon S3,  Open Source Cloud Storage System, CACSS, Big Data Storage