Your ads will be inserted here by
Easy Plugin for AdSense.
Please go to the plugin admin page to
Paste your ad code OR
Suppress this ad slot.
I was working on Highstock, I tried to set a color to a specific point in "data" in Highstock, like in the example,the example is implemented using Highchart API,but I couldn't get it to work with Highstock API, no matter how I set the color, it doesn't show on the graph.
Thanks for stackoverflow, someone helped me.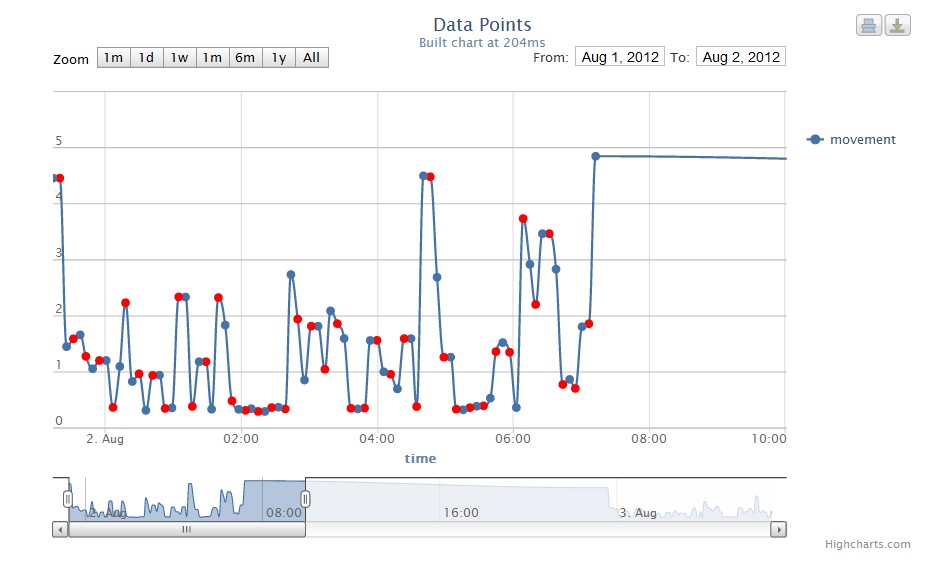 It's important to put marker enable in the plotOptions, otherwise it won't work.
 plotOptions: {
        series: {
            marker: {
                enabled: true    
            }
        }
    },
$(function () {
    var seriesSetting=[{name:"aaa",
            data: [{x: 1343862840000,y: 4.447361},{x:1343863200000,y:5,marker:{fillColor:'red'}},{x:1343873200000,y:8}]
        }];
    var chart = new Highcharts.StockChart({
        useUTC:false,
                showLoading:"loading",
                chart:{
                    renderTo:'container',
                    type:'spline',
                    events:{
                        load: function(chart) {
                            this.setTitle(null, {
                                text: 'Built chart at '+ (new Date() - start) +'ms'
                            });
                        }

                    }
                },
                legend:{
                    enabled:true,
                    showInLegend:true,
                    layout:'vertical',
                    align:'right',
                    verticalAlign:'top',
                    x:-10,
                    y:100,
                    borderWidth:0
                },
                rangeSelector:{
                    enabled:false
                },         
                xAxis:{
                    title:{
                        text:'time'
                    },

                    //    tickLength:100,
                    ordinal: false,
                    type:'datetime',
                },
                tooltip:{
                    shared:false,
                    shadow:false,
                    style:{
                        //  color:'#333333',
                        fontSize:'9pt',
                        padding:'5px'
                    }
                },
                yAxis:{
                    title:"value"
                },
                plotOptions:{
                    series:{turboThreshold: 99999,  marker: {
                           enabled: true
                       }
                    }},
                series:seriesSetting
    });
});